Fall in Texas can be a very fleeting season. Usually, the few days between the 90′ days.
While the calendar may say it's October, it's not the October of my childhood in Pennsylvania.
Here in Texas, we are starting our raised garden beds. Since we usually don't get snow, we can get in some cold weather crops.
I am way excited about getting our garden up and running again. Hubby has been doing the hard work of putting in the beds. He has made them three cinder blocks tall, so it is easier on my aging back.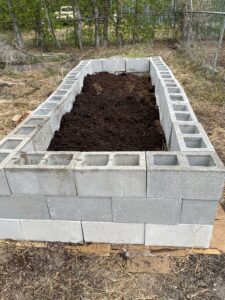 We just got a truckload of dirt delivered. Let's face it, these garden beds take a lot of dirt. And yes, before you ask, there is filler under there. It isn't all filled with dirt.
But lugging bags of dirt is not what we love doing. We ordered a truckload of garden soil delivered. That driver was so great. He maneuvered that big truck around and dumped the dirt right next to my garden gate! Which Made my and my hubby's life much easier.
So now that the first bed is built. Cinderblocks were ordered for the next two beds. It is time to go and get plants!
So what do we grow in the fall/winter in south central Texas?
We have looked around at the few places here in town and have not been able to find any seedlings that look good, so we are off to the Natural Gardner in Austin.
We are hoping to find
Spinach
Broccoli
Brussels Sprouts
Cauliflower
and maybe some hardy herbs.
I also have a planter ready to put some garlic in.
I am so excited to be starting gardening. It is something that I have done on and off for years. But living in military housing and then rentals it was a bit sketchy.
We decided to buy this house because it had a fenced-in area for what we thought was a garden. We found out later they kept a goat back there.
To begin this marvelous gardening journey, we have a fully fenced-in area. Hopefully, they are husky-proof. Walter has already been digging in the dirt we had delivered.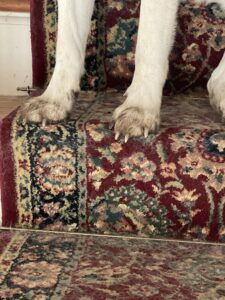 I guess this gardening venture will mean a lot more vacuuming on my part as well!
Enjoy your fall!
Judi